Waterproof Floors in Bel Air, MD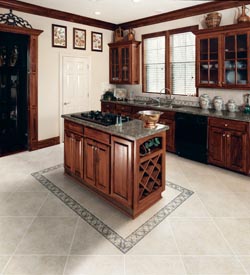 Build a more resilient home for your family that includes our innovative waterproof flooring in Bel Air, MD. Everything from a generational storm to a burst pipe in your basement can lead to flooding and ruined flooring. During your recovery, visit our showroom and see how floors from leading brands like Downs H2O perform when exposed to standing water.
Everyone at Top Notch Flooring America is focused on making your home a better place. Whether you are decorating a home for the first time or rebuilding a business after a flood, our waterproof flooring is the right way to go. Vinyl tile offers vibrant colors that work well in kitchens and bathrooms. Depending on the unique conditions you face in a place like a laundry room or basement, a waterproof product may provide you with the combination of performance and visual appeal you need.
As your business recovers from a weather event, your flooring should be the least of your worries. Commercial clients in need of a new look for their establishment should consider the value that comes with our suite of waterproof products. The added endurance and lasting beauty give your business a professional look that customers will appreciate.
Flooring You Can Count on
Function and appeal go hand in hand with our broad selection of waterproof luxury vinyl planks. Rooms that experience higher levels of moisture are ill-suited for natural hardwood. Luxury vinyl can withstand the impacts that come with having kids, but standing water is still a problem.
Water-resistant vinyl flooring gives you the look you want and the performance you need. Water resistance is especially important for families with young children and active pets. Spills are sure to happen at any time, so cover your floors with water-resistant carpet that keeps water away from your subfloor. When you need a rejuvenated look for your existing company, these vinyl products provide you with durability and lasting appeal at a price point that makes sense.
Specializing in Installation
The performance you experience with your new waterproof floors depends on professional flooring installation. Each contractor we deploy has the tools and experience needed to get the best fit possible in every room.
With the right installation and care your waterproof planks and tiles can be recovered and reinstalled after your subfloor has been drained. Invest in a flooring product that is designed to endure in the face of moisture and everything else that comes with an active family.

Contact us today for waterproof floors that are functional and attractive. We proudly serve customers in Bel Air, Fallston, Forest Hill, Abingdon, and Kingsville, and Harford County, Maryland, and surrounding communities.